Posted on April 15 2020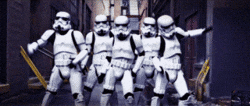 We're not sure why, but this is highly entertaining to us.
It's Wednesday, we'll take anything to help us through the week!
WHAT'S TRENDING
California, Washington and Oregon formed a Western States Pact to collaborate on a reopening plan. NY Governor Cuomo launches a similar coalition for the East Coast. California's Governor, Gavin Newsom, outlines the six things that need to happen before the state loosens restrictions. And if you're a Bill Gates fan, here's an interview where he speaks about what we should expect over the next few months and years.


Apple and Google announced a partnership to create a COVID-19 contact tracing app. In short, the app uses Bluetooth technology to track who you've been in contact with. If someone you've been in contact with tests positive for COVID-19, you'll get a notification that you were potentially exposed.
IN BUSINESS / ECONOMY
JPMorgan Chase and Wells Fargo were the first to kick off the Q1 earnings calls on Tuesday. Both banks set aside billions to prepare for expected losses on loans customers may not be able to repay.


US Airlines will receive a $25B bailout in the form of grants and loans. To get a sense of how badly airlines are being impacted by COVID-19, "Airlines for America, an industry lobbying group, said that as of April 9, U.S. airlines had idled 2,200 aircraft and that passenger volume was down 95 percent from a year ago."
IN POLITICS / GOVERNMENT
JUST FOR YOU
Leadership – If anyone knows me personally, you'll know I'm a huge Agile advocate. This piece talks about how you can use Agile concepts to make everyone on your team accountable to each other so you don't always have to be the enforcer. Trust us, it'll lead to more empowered teams.


Interesting read – Confessions of a Former Serial Dater – "I now limit myself to no more than two dates a week with two different people, and I always give someone at least a second date if the first encounter wasn't terrible. We're rarely our true selves on a first date and it's impossible to fully get to know someone in an hour or so."